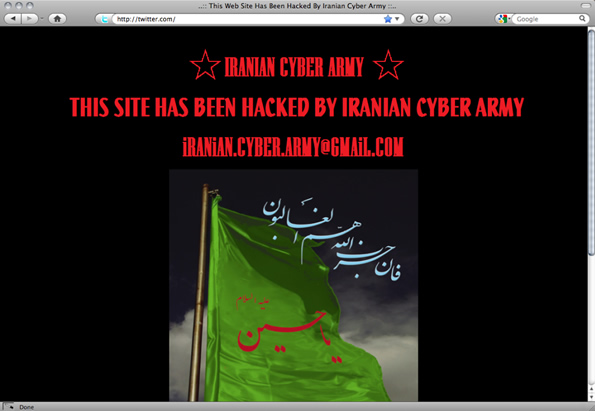 Screen shot of Twitter.com home page as it was defaced by 'Iranian Cyber Army'
Twitter blackout. Twitter down. Tweets did not go through early Friday morning. The tweet failure on Twitter was accompanied by defacement of the front page of Twitter using some method of DNS re-assignment most likely.
What did the message from the 'Iranian Cyber Army' say?

Iranian Cyber Army

THIS SITE HAS BEEN HACKED BY IRANIAN CYBER ARMY

iRANiAN.CYBER.ARMY@GMAIL.COM

U.S.A. Think They Controlling And Managing Internet By Their Access, But THey Don't, We Control And Manage Internet By Our Power, So Do Not Try To Stimulation Iranian Peoples To….

NOW WHICH COUNTRY IN EMBARGO LIST? IRAN? USA?
WE PUSH THEM IN EMBARGO LIST 😉
Take Care.
Twitter was back up in about an hour and fixed by 1:30 a.m. CT on Friday.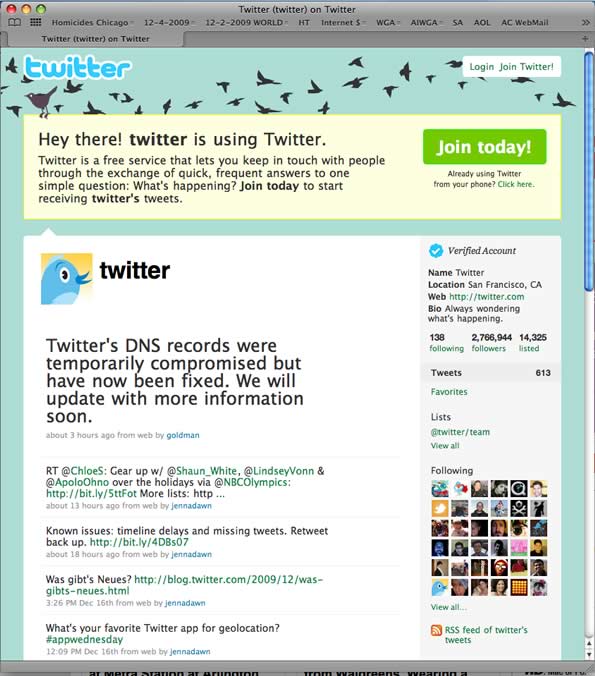 Tweet from Twitter that acknowledge that Twitter's DNS was hacked early Friday morning, December 17, 2009 (twitter.com/twitter).
Iranian Revenge
The defacement appears to be a reprisal for Twitter's role in the Iranian election protests in June 2009. Iranian citizen's used Twitter to provide updates to the world about Iranian government reaction to protests. Iranian protesters beamed images from the violent protests when mainstream media was blocked from entering Iran, and forbidden from broadcasting information if there were journalist inside the country.
Twitter became so important in spreading news of the protests — and in aiding protester communication on the streets of Iran — that the U.S. State Department asked Twitter to delay a planned shutdown for maintenance.
Protests proliferated in Iran following the 2009 Iranian presidential election for alleged electoral fraud and in pro-demonstration support of opposition candidate Mir-Hossein Mousavi. The June 2009 protest has also been nicknamed the "Twitter Revolution" — also known by protesters as the Green Revolution (Sea of Green) or Persian Awakening.
In response to the protests, other groups rallied in Tehran to support Mahmoud Ahmadinejad.
Iranian police and a paramilitary group called the Basij suppressed both peaceful demonstrators and rioting demonstrators, using batons, pepper spray, sticks and, in some cases, firearms. At least 36 Iranian citizens were killed, including an innocent bystander, Neda, whose death from a gunshot to the chest by Basij, was caught on video, published on YouTube and spread virally on YouTube.


Farsi translated: "In the name of God, As an Iranian this is a reaction to Twitter's interference sly which was U.S. authorities ordered in the internal affairs of my country… [unconfirmed]" Graphic shows the full-depth of the image that was published on the home page defacement at mawjcamp.org — a second website that was also defaced. Inset is apparently legitimate look of mawjcamp.org
A second website was also compromised: mowjcamp.com. The site is supposedly a site for supporters of Mir-Hossein Mousavi Khameneh.
Wikipedia: Basij |  Iran | 2009 Iranian election protests | Iranian Presidential Election 2009 | Mahmoud Ahmadinejad |  Mir-Hossein Mousavi