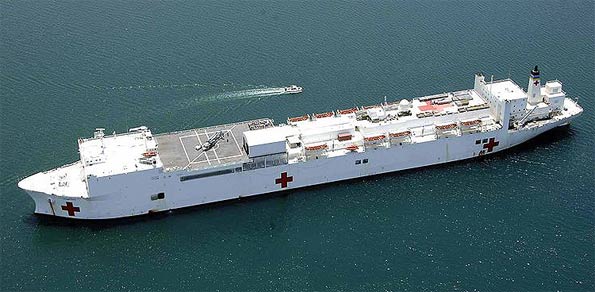 USNS Comfort (T-AH-20) is the third United States Navy ship to bear the name Comfort, and the second Mercy Class Hospital Ship to join the navy fleet. In accordance with the Geneva Conventions, USNS Comfort and her crew do not carry any ordnance and firing on the Comfort is considered a war crime.
On 13 January 2010, the Comfort was ordered to assist in the humanitarian relief efforts following the 2010 Haiti earthquake.
Most recently USNS Comfort was deployed for Operation Continuing Promise in Haiti (2007-2009), Joint Task Force Katrina (2005), Operation Iraqi Freedom (2003)
When not actively deployed, Comfort is kept in a state of reduced operations in Baltimore harbor. USNS Comfort has been used many times over the years and has been ready to ship out of Baltimore with 5 days' notice.
Like her sister ship USNS Mercy (T-AH-19), Comfort was built as an oil tanker in 1976 by the National Steel and Shipbuilding Company. Her original name was SS Rose City and she was launched from San Diego, California.
Wikipedia: USNS Comfort (T-AH-20)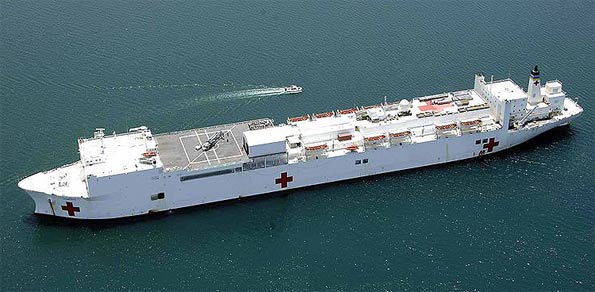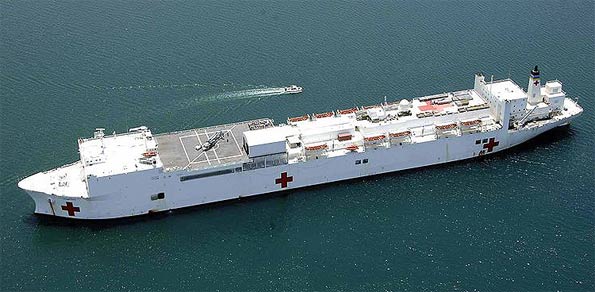 PORT-AU-PRINCE (April 11, 2009) The Military Sealift Command hospital ship USNS Comfort (T-AH 20) anchored near Port-au-Prince supporting Continuing Promise 2009, a humanitarian and civic assistance mission to Latin America and the Caribbean. (U.S. Army photo by Spc. Landon Stephenson/Released).