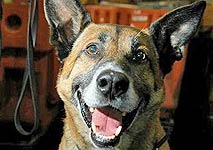 Rambo K-9 with U.S. Customs
A U.S. Customs and Border Protection dog named 'Rambo' discovered 35 kilograms of opium-saturated leaves and twigs at Chicago O'Hare International Airport Tuesday night. The illegal cargo arrived on a plane from Laos.

The opium — labeled in the manifest as clear plastic packages containing "Hmong Traditional Medicine Tea" — was scheduled to end up in the Minneapolis area.
Laos is among countries with the highest production of opium, including Afghanistan (#1) Northern India, Thailand, Myanmar (Burma) Mexico, Colombia, and Hungary.
According to the CIA World Factbook, Laos had an estimated opium poppy cultivation in 2008 that was 1,900 hectares (4695 acres, 7.3 square miles), about a 73% increase from 2007; estimated potential opium production in 2008 more than tripled to 17 metric tons; unsubstantiated reports of domestic methamphetamine production; growing domestic methamphetamine problem (2007).
Wikipedia: Laos | opium | U.S. Customs and Border Protection
SOURCES:
Chicago Sun-Times Federal dog sniffs out huge shipment of opium at O'Hare