"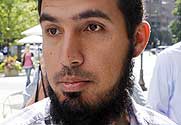 Najibullah Zazi told a judge the terror network recruited him to be a suicide bomber in New York, where he went to high school and once worked a coffee cart just blocks from the World Trade Center site.
Zazi admitted in court Monday that he plotted to detonate homemade bombs in the Manhattan subways in September near the anniversary of the 9/11 terror attacks.
Flushing High School friends Adis Medunjanin and Zarein Ahmedzay are already charged in connection with Zazi's trip to an Al Qaeda training camp in Pakistan in 2008. They are likely to face additional charges with the confession.