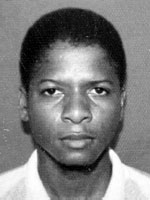 Ahmed Khalfan Ghailani
Ahmed Khalfan Ghailani, 36, is an alleged member of the al-Qaeda terrorist organization. He was indicted in the United States as a participant in the 1998 U.S. embassy bombings. He was on the FBI Most Wanted Terrorists list from its inception in October 2001. In 2004, he was captured and detained by Pakistani forces in a joint operation with the United States. Until June 9, 2009, Ghailani had been held in the Guantanamo Bay detention camp; he is one of the 14 people who had previously been held at secret locations abroad.
At the behest of the Obama administration, Ghailani was transported from Guantanamo Bay to New York City to stand trial in the United States District Court for the Southern District of New York on the morning of June 9, 2009. He is currently being held in the Metropolitan Correctional Center in Manhattan.
On Wednesday, November 17, 2010, he was only convicted of conspiracy to destroy government buildings — one count of conspiracy for his role in the 1998 terrorist bombings of the United States Embassies in Nairobi, Kenya, left, and Dar es Salaam, Tanzania. The Al Qaeda attacks killed 224 people, including 12 Americans, and wounded thousands of others. Ghailani faces a sentence of 20 years to life in prison.
Ghailani's trial commenced Oct. 4, 2010, in the Daniel Patrick Moynihan Federal Court Building in lower Manhattan with U.S. District Court Judge Lewis A. Kaplan presiding. On Wednesday, October 6, 2010, in a short ruling that the judge said he would expand upon later that day, it was determined (in a blow to President Barack Obama, Attorney General Eric Holder, and the lead prosecutor, Assistant U.S. Attorney Michael Farbiarz) that a key witness, the Tanzanian Hussein Abebe- who may have issued statements crucial to implicating Ghailani during the time he was under CIA custody- would not be testifying in the trial.
Judge Kaplan (according to a Reuters story by Basil Katz featured on Insight Broadband that day) agreed to delay the start of the trial until the following Tuesday, October 12, 2010, pending a possible appeal of that ruling. The government wants the case to proceed smoothly to a conviction to serve as a successful model for the possible civilian trial (many Republicans object to terrorists being tried in any other setting besides a military tribunal) of Khalid Sheikh Mohammed, the mastermind behind the September 11, 2001 terrorist attacks on the United States. On Oct. 11, 2010 the government announced not to appeal Judge Kaplan's ruling. Steve Zissou, one of Ghailani's lawyers commented that the government's decision not to appeal was "a significant victory for the Constitution."
Ghailani was the first prisoner tried of 14 high level prisoners transferred from Guantanamo Bay to New York City. His defense argued that he was a duped errand boy that did not know about the major plot.