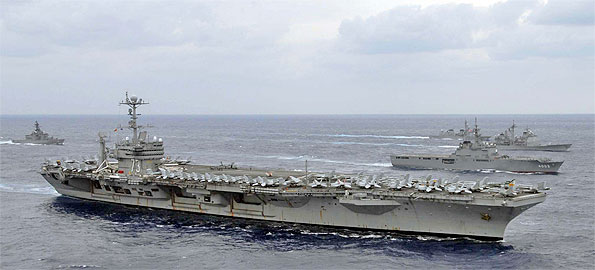 USS Washington CVN-73 left a naval base south of Tokyo on Wednesday morning and is scheduled to join exercises with South Korea from Sunday to the following Wednesday
The U.S.S. George Washington has left its home port and is sailing to the Korean Peninsula. The Aircraft Carrier, with 75 fighter aircraft and 6000 Sailors and U.S. Marines will be participating in exercises in the region. The Pentagon says that the exercises were planned prior to yesterday's artillery attack on South Korea.
President Barack Obama had replied to the attact that the United States is an ally of the United State and would protect South Korea — basically stated an attack on South Korea is an attack on the United States.
USS George Washington (CVN 73) is an American nuclear-powered supercarrier, the sixth ship in the Nimitz class and the fourth United States Navy ship to be named after George Washington, first President of the United States. She was built by Newport News Shipbuilding and was commissioned 4 July 1992.
China expressed discontent with the United States aircraft carrier group heading toward the region.
+++++
Photograph file is a work of a sailor or employee of the U.S. Navy, taken or made during the course of the person's official duties. As a work of the U.S. federal government, the image is in the public domain.
Reuters.com U.S. aircraft carrier heads for Korean waters