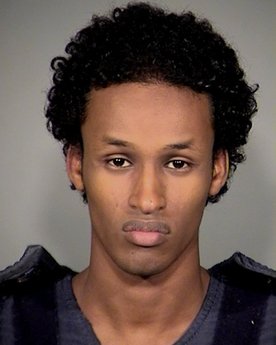 Mohamed Osman Mohamud, Christmas Tree Bomber

Somali-born teenager Mohamed Osman Mohamud, 19, was arrested in a sting operation at 5:45 p.m. Friday at Southwest Yamhill Street and Sixth Avenue, Portland, Oregon while trying to blow up a van he believed was loaded with explosives at a Christmas tree lighting ceremony. Mohamud, of Corvallis, Oregon, drove a van to the ceremony and was arrested immediately after dialing a cellphone that he thought would detonate the explosives about 20 minutes before the tree lighting was to occur. The van was loaded with fake explosives.
Prosecutors said Mr Mohamud had shouted "Allahu Akbar!" (God is great!) during the attempt, and tried to kick law officers as they approached.
U.S. Attorney Dwight Holton released federal court documents showing that the sting operation began in June 2010 after an undercover agent learned that 19-year-old Mohamed Osman Mohamud had been in regular e-mail contact with an "unindicted associate" in Pakistan's northwest, a frontier region where Al Qaeda and Afghanistan's Taliban insurgents are strong.
An FBI document reveals that Mohamud had contact with the suspected terrorist in Aug. 2009. In Dec. 2009, Mohamud discussed the possibility of traveling to Pakistan to engage in violent jihad.
The agent informed Mr Mohamud there would be "a lot of children" at the ceremony but Mr Mohamud allegedly said he was looking for a "huge mass that will be attacked in their own element with their families celebrating the holidays".
Mohamed Osman Mohamud faces a maximum sentence of life in prison and a $250,000 fine if convicted of attempting to use a weapon of mass destruction.