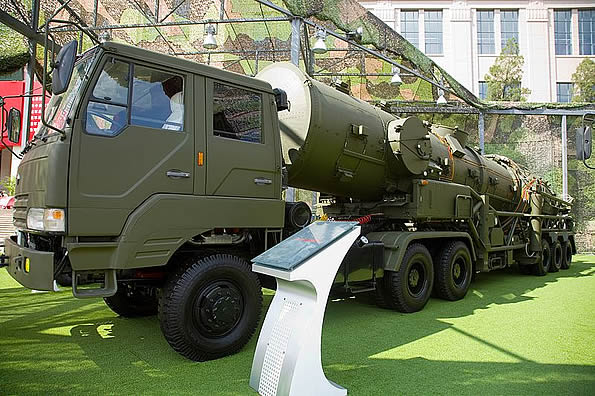 A Chinese DF-21A transporter erector vehicle on display at the "Our troops towards the sky" exhibition at the Beijing Military Museum.
The Dong Feng 21D — an earlier version of which was displayed last year in a Chinese military parade — might give China the ability to reach and hit U.S. aircraft carriers well before the U.S. can get close enough to the mainland to hit back.
The missile is said to have a range of 900 miles with capability of hitting a moving target, and has been named by some as a 'Carrier Killer' (an aircraft carrier killer).

Three layers of target sensors would provide a very accurate snapshot with which to precisely guide a missile to hit a strike group with an aircraft carrier.
Airborne sensors
Over-the-horizon radar
Space-based satellites
Toshi Yoshihara, an associate professor at the U.S. Naval War College, disputes the claim that the missile is a game-changer.
Toshi Yoshihara is an associate professor in the Strategy and Policy Department and an affiliate member of the China Maritime Studies Institute at the Naval War College. Previously, he was a visiting professor in the Strategy Department at the Air War College. Dr. Yoshihara has also served as an analyst at the Institute for Foreign Policy Analysis, RAND, and the American Enterprise Institute. He holds a Ph.D. from the Fletcher School of Law and Diplomacy, Tufts University, an M.A. from the School of Advanced International Studies, Johns Hopkins University, and a B.S. from the School of Foreign Service, Georgetown University. Dr. Yoshihara is the co-author of Red Star over the Pacific: China's Rise and the Challenge to U.S. Maritime Strategy (Naval Institute Press, forthcoming), Indian Naval Strategy in the Twenty-first Century (Routledge, 2009), and Chinese Naval Strategy in the Twenty-first Century: The Turn to Mahan (Routledge, 2008). He is the co-editor of Nuclear Strategy in the Second Nuclear Age (Georgetown University Press, forthcoming) and Asia Looks Seaward: Power and Maritime Strategy (Praeger Security International, 2008).